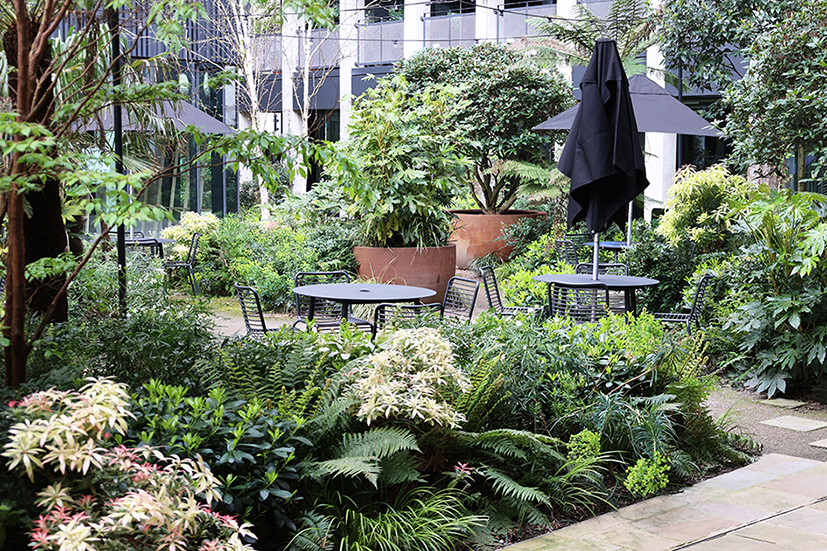 As companies settle into a new routine of hybrid and flexible working arrangements post-COVID and reimagine their workplaces with this in mind, we are seeing a sharp uptick in clients wanting to utilise their outdoor spaces.
We have previously seen a change in the way in which clients use premises. A shift to hybrid and flexible working prompted many firms to reconsider the nature of their office environment – and how much space they need. Hotdesking and mixed working environments are being introduced as companies reimagine the office, scrapping outdated principles of set desks and offices.
Some of the designs it can implement include flexible and informal breakout and workspaces incorporating pods and booths, which can also be powered by cutting-edge portable power banks, eclipsing the need for building costly fixed partitions and rewiring buildings based on new sets of plans.
But in addition to reimagining the internal workplace, companies are also looking outside for inspiration and reconsidering how they can use the wider environment in an innovative way that can drive creativity, teamwork and culture – and enhance the wellbeing of employees.
The last of these drivers is a key topic in larger companies, from facilities management to HR, there is a growing realisation that wellbeing, including physical, mental and emotional health, is an increasingly important consideration in office design and workplace management. Getting it right can significantly impact employee satisfaction, productivity, and overall performance.
For companies with the luxury of land attached to their premises, we are designing outdoor furniture options, canopies and other amenities that can allow the workforce fresh air and a change of scenery. Some companies are leveraging previously ignored rooftops as accessible outdoor spaces, which some are landscaping, and some are even planting fruit and vegetables to help engage and destress employees.
For companies without the luxury of easily accessible outdoor spaces there is another option. We are also working with some clients to create biophilic office spaces – a term that refers to the idea of bringing the outdoors indoors. From living walls to office gardens, there are a number of ways plants and other greenery can be incorporated into office design.
Graham Hirst, our Managing Director, said:
"The working environment fundamentally changed during the COVID pandemic, but many companies are now embracing the positives of that. We had already seen a big change in how clients wished to use their internal space – now we are seeing more enquiries where they also want that transformation to extend to the outdoors.

"This represents a fascinating new challenge for us – but one we are embracing. Getting the workplace environment right can be positive in so many ways, from enhancing wellbeing to increasing productivity, creativity and driving a positive culture within firms. Employees want to feel their workplace is inspiring and commute-worthy – and we relish helping our clients achieve that."