Ministry of Furniture is a limited business with community and social aims at its heart. Backed by our strong heritage, we are committed to giving back to our local community, and to the creation of employment opportunities for disabled and disadvantaged people.
Currently 30% of our workforce have recognised disabilities or are disadvantaged. We pride ourselves on being a Disability Confident Employer.
Over many years, we have become experts in the development of people and have seen the positive effect it can have on society. We pride ourselves on our forward-thinking approach, putting in place an apprenticeship programme to train, develop, and retain new talent, and we actively encourage this approach from our partners sharing similar social aims.
Supporting our commercial goals, we are a business that delivers real social value to communities through the meaningful employment and engagement of disadvantaged people.
Education
Ministry work closely with local schools, colleges, universities, and other educational bodies to take on apprentices and develop our own employees. We have used TLC, Gower College, Chwarae Teg and many others for the development of our people. We aim to help our trainees gain knowledge, skills and work experience preparing them for employment
with the aim of achieving a permanent job.
We have an ongoing relationship with Swansea University where we have supported a group of students in the School of Management Facility with their final year projects – The students investigate a problem the business may have and provide a report which offers the business recommendations on how to solve the problem. The project should
investigate something for which a business has a real need and usable outcomes.
Most recently we have supported the University of South Wales student Mentor scheme. The scheme aims to pair design students with industry professionals to provide support on their final year projects, as well as gain invaluable work experience in the creative industry.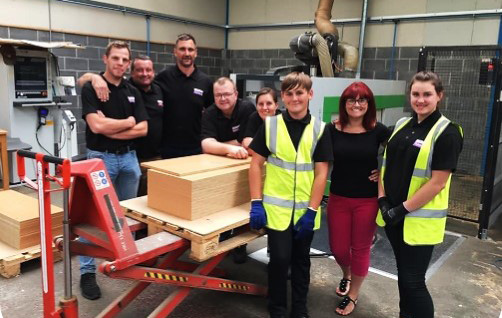 Ospreys in the Community
Ministry work closely with Ospreys in the Community, who are a not for profit, independent foundation who aim to encourage boys and girls of all ages and abilities, to make positive life choices through education, health, sport, and inclusion.
In partnership with Ospreys Rugby and partners they utilise the undoubted power of the Ospreys brand, and players, in a positive fashion, to harness social good and make an impact in communities. Ministry have helped Ospreys with Community, and will continue to do so, with mock interviews, mentoring, job fairs, work experience for young
local unemployed people and school leavers. Our commitment to this will continue for the foreseeable future.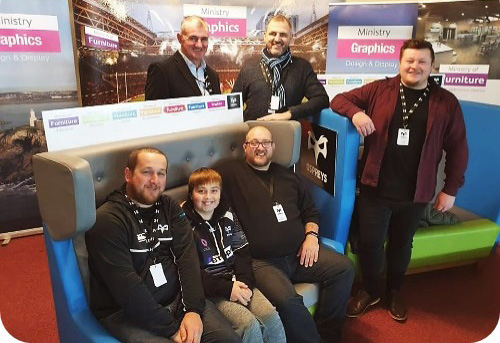 Supply Chain
Ministry are a member of Social Firms Wales and it is through regular communication with them, and access to their support team and Business database, that helps us to establish potential supply chain partners. We will continue to use Social Firms Wales as our supply chain requirements grow.
Networking events have also proven to be very successful in establishing new supply chain partners with social aims. We have presented and attended at many Welsh networking events with a social aim agenda such as North Wales Social Enterprise and Wates Construction for Social Enterprises.
Ministry's Directors, Sales Force and Supply chain are all dedicated to our social agenda and can engage and discuss knowledgeably with potential partners. It is our aim to increase the number of social firms on our list next year, and this will include suppliers of both services and products.
Recruitment
Our most recent venture has seen the development of our new recruitment company, Ministry People, who alongside our business model, match the best people with employers. Ministry People's aim is to offer opportunities to local people to train and work in a range of sectors, including construction and customer service.
Candidates are employed by Ministry through our apprenticeship scheme, where they learn and develop new skills, receiving a professional qualification upon completion of their experience. Our preference is to recruit staff who are perhaps facing challenges or perceived barriers of entry to employment as we believe this has a wide demonstrate effect on the health and wellbeing of people and their families.