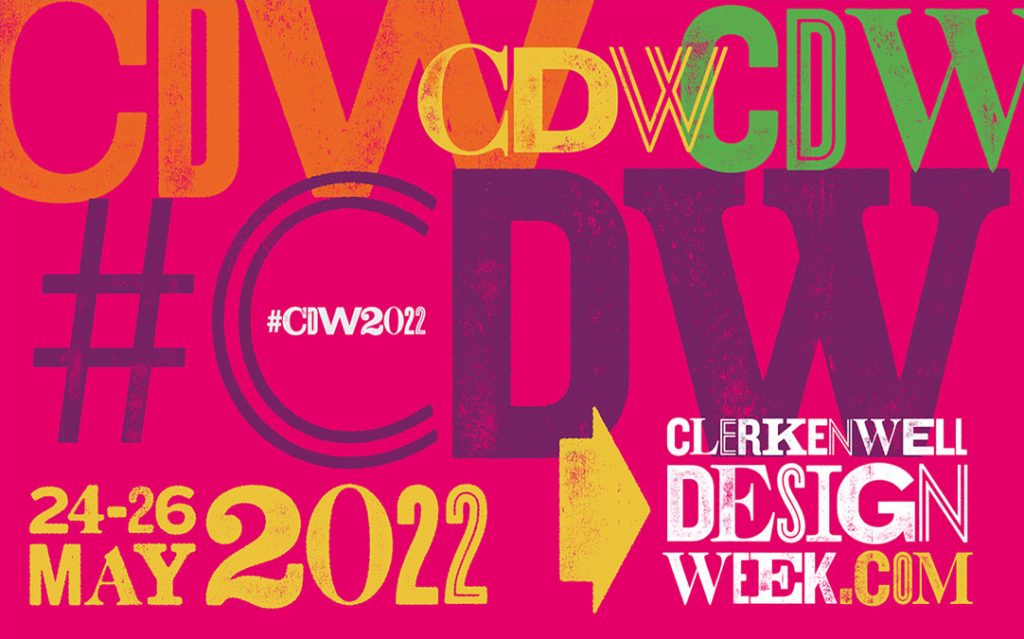 Clerkenwell is home to more creative businesses and architects per square mile than anywhere else on the planet, making it truly one of the most important design hubs in the world. To celebrate this rich and diverse community, Clerkenwell Design Week has created a showcase of leading UK and international brands and companies presented in a series of showroom events, exhibitions and special installations that take place across the area.
CDW has firmly established itself as the UK's leading independent design festival and annually attracts the international design community to this small area of London for three days of exciting events. In 2019, the design community flocked to Clerkenwell with 34,185 attendees and over 300 exhibiting brands.
CDW made its creative comeback last month and was bigger and better than ever before! The show celebrated its 13th year with over 400 events, 150+ showrooms and 10 exhibition venues to explore. Visitors were spoilt for choice on how to spend their time at CDW as masses of people travelled to EC1 to listen in on topical talks at Conversations at Clerkenwell, visit the street sculptures and artistic installations and explore all that CDW 2022 had to offer!
Here are our highlights of new product launches at CDW 2022 from some of our favourite brands…

Senator Group introduced 'The Social Office' at CDW 2022; an opportunity to experience Senator and Allermuir across the globe by showcasing hybrid working solutions. They were also proud to launch the first previews of:
Bastille, a seating family made up of a dining, lounge and bar stool with a minimalist, yet luxurious aesthetic. Design by Patrick Norgeut for Allermuir.
Plum, a universal lounge chair with an exceptionally comfortable upright sit. Design by Mark Gabbertas for Allermuir.

Framed by Senator, an intelligent system that has the power to create a highly customisable modular shelving and storage system.
WorkBase by Senator is a comprehensive desking system that gives control to the user by putting individual wellbeing at its core.

Sixteen3 launched Hugg, Sedir, Milo and promoted their existing Link range at their 'Bastwick Conservatory' themed tranquil London showroom.

Nomique launched 'Patchwork' this year. Patchwork offers a quiet place for workplace privacy and is available in five different configurations, each with different possibilities.

Inspired by the landscape of modern workplace design, as well as macro interior design trends, Connection Seating launched a variety of new products throughout CDW, including their latest 'Furnitecture' innovation, a personal workspace solution, and an eco-friendly statement chair. Alongside the entirely new products, were numerous ranges re-imagined for the modern workplace.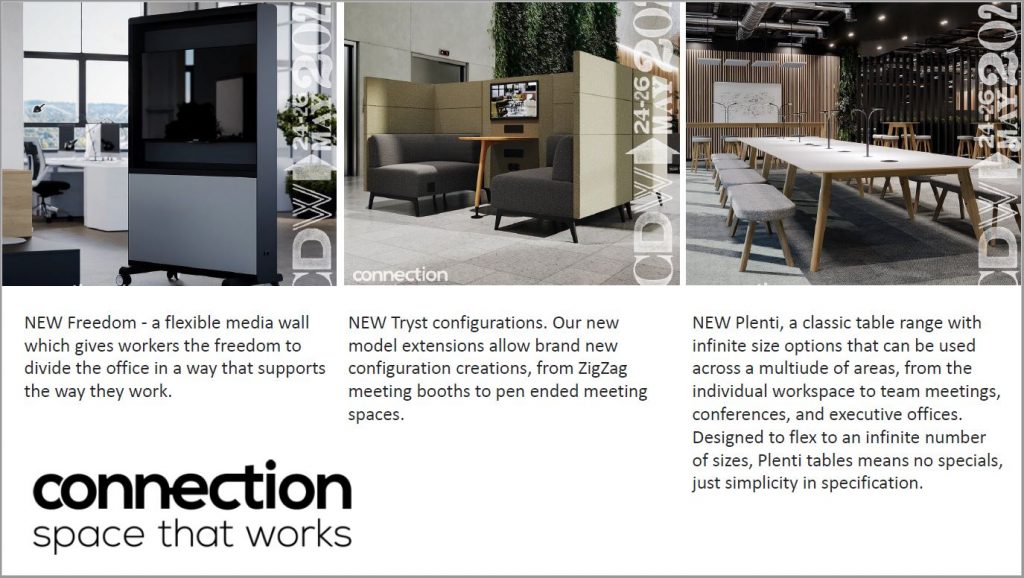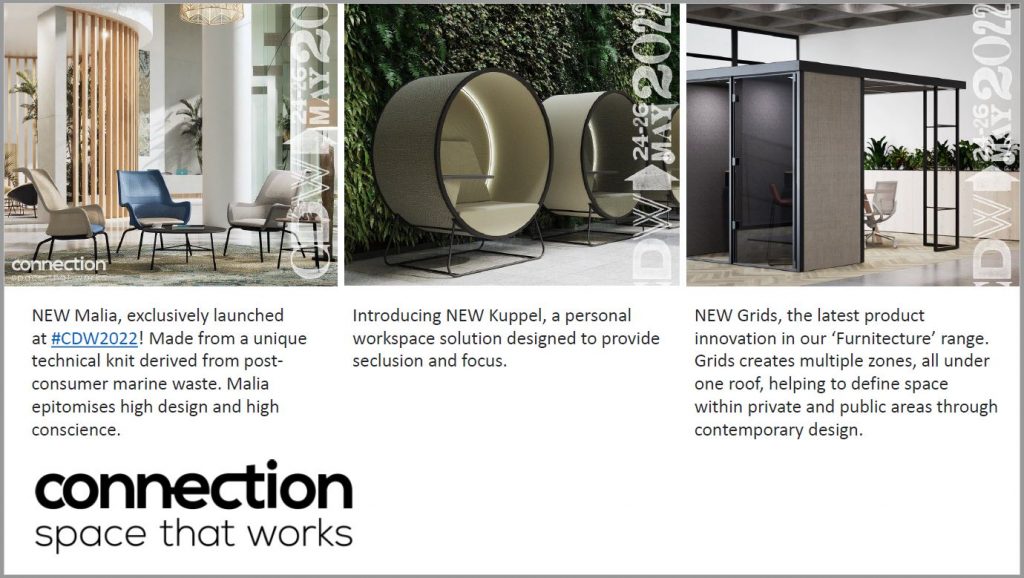 Naughtone – Seating for circularity. naughtone launched 'Ever' sofa designed with the end in mind. The sofa collection will feature three different options, including an armchair, two-seat sofa and a three-seat sofa in a variety of fabrics and finishes, and is backed by naughtone's 10-year-warranty. The collection was designed to harmonize with existing naughtone furniture, such as the Always portfolio, but its simple curves, purposeful angles, and vibrant colour palette make it a versatile fit for a variety of spaces.

Boss Design – The evolution of the Workplace
As we consider returning to the workplace, we have a unique opportunity to recalibrate. Companies and designers are looking to welcome people back into dynamic spaces that entice, reassure and inspire – and crucially are flexible enough to adapt to whatever the world has to throw at us. Boss Design launched Amelia, Sol, Flo and Rosa at CDW 2022.

Orn have also launched some inspiring new products this summer including Konnect, Antalya and Konya…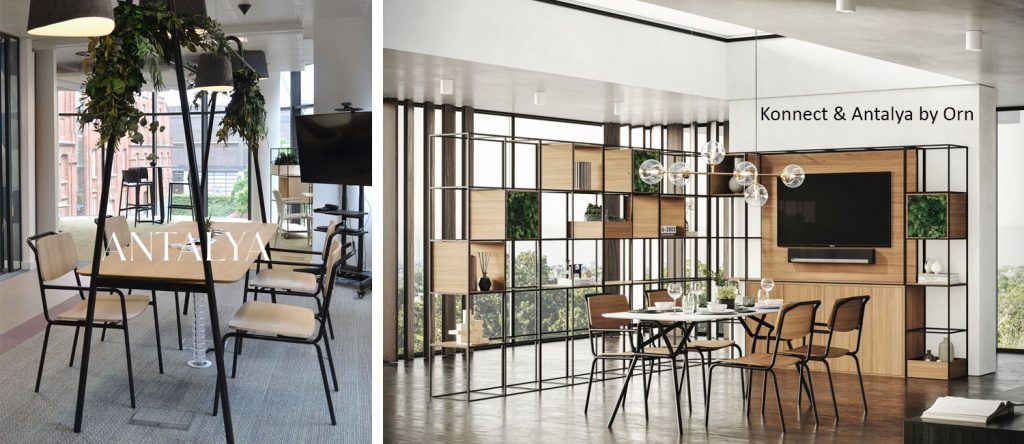 Thanks for reading! We hope you enjoyed our new product highlights of CDW 2022!
For further information on the above products or more inspiration please contact our friendly team of experts on sales@ministryoffurnuiture.com or 01639 812382