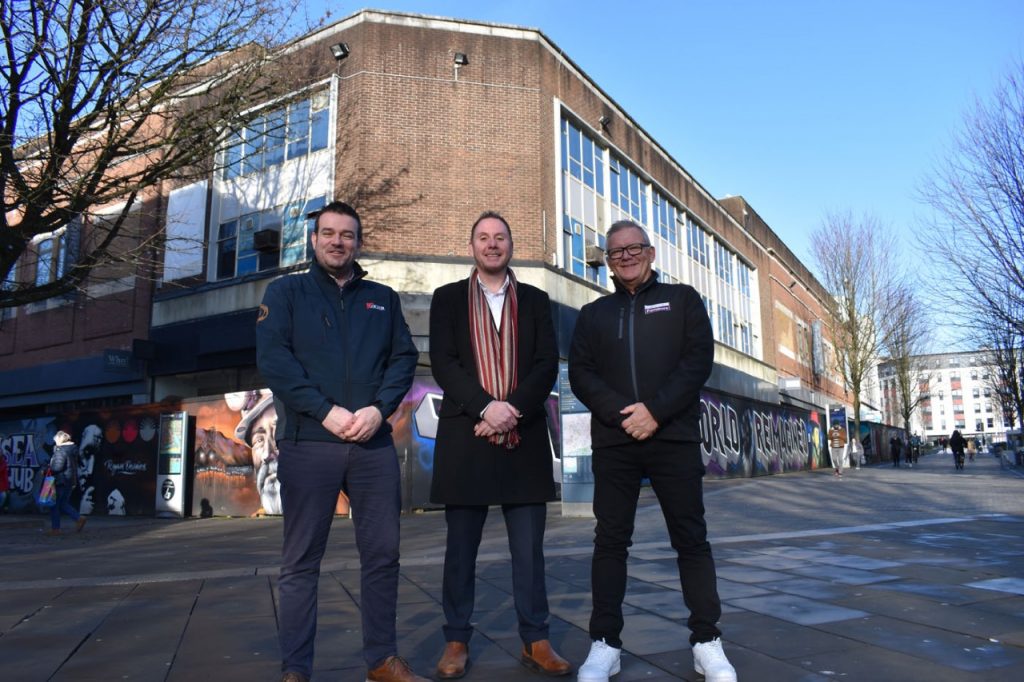 We are delighted to be playing an important role in a key regeneration project in Swansea city centre.
Our company has been appointed to design the furniture and fixtures scheme of Swansea Council's planned public services hub. We will work on the contract with the council and main contractors Kier Construction.
We have previously worked for the council on the most recent fit-out of the Civic Centre, largely utilising remanufactured furniture. As a boost to the circular economy, we aim to move the majority of that apparatus to the new hub, being developed in Oxford Street's former BHS and What! store.
Our Managing Director, Graham Hirst, said:
"We were delighted to win this contract in a competitive tender process run by Kier Construction. It means that we'll play a key role in bringing to fruition an exciting project as part of the council's city centre transformation programme.

"We've worked with the council on other projects and we're confident that we can deliver just what they and the Swansea public want."
Council Leader, Rob Stewart, said:
"It's pleasing that a South Wales firm has secured this important contract in this high-profile project. As with other key schemes – such as The Kingsway, Wind Street and Swansea Arena – we want this community hub to offer as much work as possible to Welsh businesses.

"Its development alone will create work for hundreds of people."
Kier Construction Regional Director, Jason Taylor, said:
"We're making good progress on this top class project and we expect Ministry of Furniture to offer great professionalism as they have on other projects."
The Civic Centre is in line to be redeveloped as a new city seafront district in a partnership between the council and world-renowned developers Urban Splash. New homes and leisure and hospitality uses could feature there, along with greenery, public spaces and a new walkway to the beach.
The former BHS is being given new life as a main library, the base for public-facing council services, the West Glamorgan Archive Service and a home to a range of other public services. This is all part of the council's £1bn regeneration programme that continues to forge ahead.
It will be a big help to the public who wish to access key public services, featuring council and community services, including the city's main library and archive service.
Work has just started in earnest and will, in due course, offer people convenient access to key services from across the council and other organisations. It will reinvigorate an existing building, bring together key support services into a single accessible location and will boost footfall for city centre businesses.
Other forthcoming city centre regeneration projects include a new look for Castle Square and the construction of an innovation hub at 71/72 Kingsway.