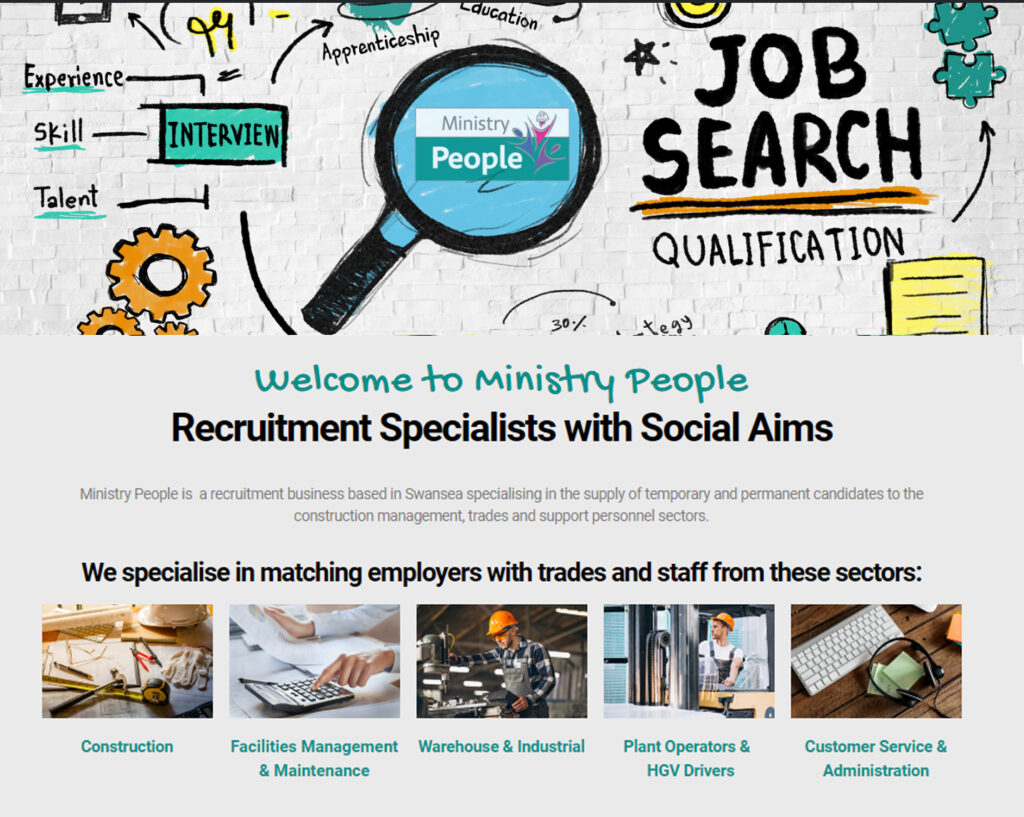 We are delighted to reveal that Ministry People, our new venture launched in June, is now fully operational, working for a growing list of clients and doing its bit to get the economy moving again – by supplying companies with the right people.
It also has a brand new website up and running, which can be found here: www.ministrypeople.com
Ministry People is a recruitment business with a difference. It places social aims at the heart of the venture, allocating a percentage of its profits to a social fund dedicated to supporting local community projects relevant to the construction sites it supports.
It also complements the work of our sister company Ministry Graphics by offering another key service required on large construction projects, builds and refurbishments: people with the skills to do the job.
Headed up by the experienced Caroline Locke, a recruitment professional who worked at national recruitment agency Hays for many years before founding award-winning agency Spotless Recruitment, the testimonials from satisfied clients have started flooding in – something that makes us very proud.
Anthony Davies, company director at Davis Contractors, said: "Davies Contractors have used Caroline for the supply of temporary labour during peaks in workload, the quality has been very good with a number of these workers taking up direct employment with us. We are delighted to be supporting Caroline in her new joint venture with Ministry Group and look forward to being involved with the social aims of the new business."
Jonathan Davies, Managing Director of QDL Contractors, said: "Caroline has supplied QDL Contractors for several years with good quality painters in South Wales and the South West. She is available evenings and weekends which has been a benefit when planning labour, we are proud to be supporting her in her new venture with Ministry People."
Finally, Alan Brayley, Managing Director, AB Glass, said: "We are delighted to be one of the first companies to support a new recruitment specialist in the area: Ministry People, headed up by Caroline Locke. We like Ministry People for lots of reasons but one big reason is that it allocates a percentage of its profits to a social fund dedicated to supporting local community projects relevant to the construction sites it supports."