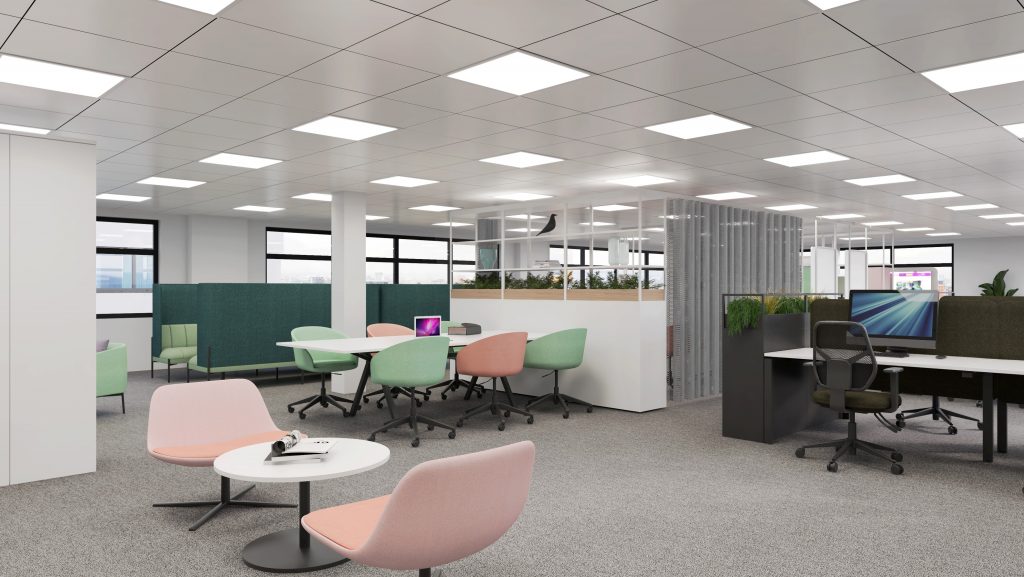 We are enjoying a surge in demand for some of our most innovative services on the back of companies reinventing the way in which their offices operate, in a post COVID-restrictions environment.
A shift to hybrid and flexible working arrangements on a long-term basis has prompted many firms to reconsider the very nature of their office environment – and how much space they need. Hotdesking and mixed working environments are being introduced as companies reimagine the office, scrapping outdated principles of set desks and offices.
This approach is also combined with a growing desire to leverage the principles of the circular economy in all aspects of the design and fit out. Companies are now assessing and monitoring their carbon footprint and want a full understanding of where materials are sourced and the nature of supply chains.
We are able to deliver all aspects of an office refit from design stage to manufacture to fitout, and have experienced a surge in demand as companies reconsider how and where people want to work.
Our designs incorporate flexible and informal breakout and workspaces, incorporating pods and booths, which can also be powered by cutting-edge portable power banks, eclipsing the need for building costly fixed partitions and rewiring buildings based on new sets of plans.
In addition, we have developed the expertise to upcycle and remanufacture desks and other types of furniture for new uses. For example, old desks can be repurposed as shelving or lockers – another important consideration in an office where employees no longer have a single dedicated desk or workspace.
Our approach always uses a local supply chain for all aspects of the job while leveraging the principles of the circular economy. Much of the furniture will be re-manufactured and upcycled, while it also works closely with Paint 360, a pioneer in the reengineering and reuse of waste paint, to decorate the interior.
Just some of the companies we have worked with on such projects include Marine Power Systems, Crunch Digital and Mrs Bucket. In the case of the latter, the company said it wanted to provide its growing team with a fresh environment focused on wellbeing and collaboration, and so added more informal space for collaboration and meetings.
Graham Hirst, our Managing Director, said:
"The working environment fundamentally changed during the COVID pandemic, but many companies are now embracing the positives of that and want to adjust their working environments long term. With people working from home, companies want their offices to become alternative but inspiring workspaces.

"This ties in perfectly with our offering, whereby we can help clients through each part of the process from concept to completion. This approach also complements our commitment to the circular economy and skillset in remanufacturing and upcycling products. The clients we have worked with recently wanted a more collaborative working environment and I think that the final designs really help facilitate that creative energy."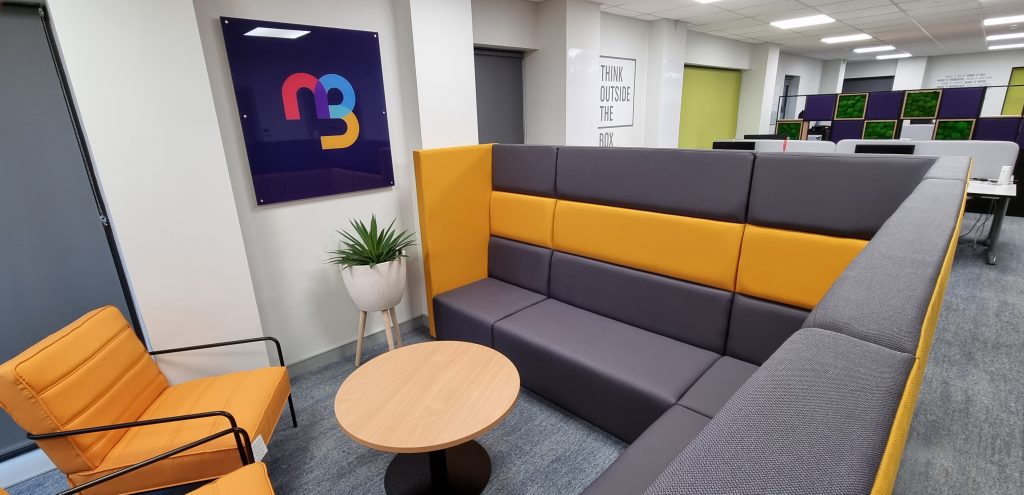 Rachael Flanagan, CEO of Mrs Buckét, said:
"After a tough two years for everyone, we were keen to refresh our space as more of the team returned to office working. Employee wellbeing is really important to us and so our main goal was to create a modern, fresh environment, a place where people are excited to come to work.

"We consulted with our team from the outset and designed the new offices purely with their feedback in mind. Team building is at the top of our agenda, and we really believe that having an inspiring space for our team to work from will help us in our drive to become one of the foremost employers in the cleaning and facilities management industry."