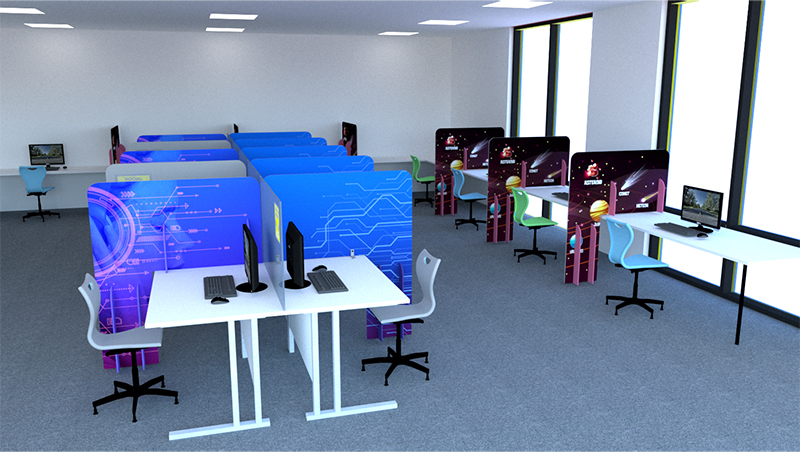 As local authorities and schools across the UK welcome pupils back in line with Government guidelines, here at Ministry of Furniture we are delighted to be able to support them to do that safely.
In the months since lockdown and the coronavirus pandemic started, we have repurposed our business, equipment, skills and offering to develop a range of personal protective equipment and also a number of products to protect individuals in the workplace – as well as in schools and education facilities.
Our Protekt Series includes a variety of protective screening for a range of areas within educational facilities. All our products are designed with safety, hygiene and ease of quick reconfiguration to adapt for these new situations – but we have also made them as attractive as possible to help stimulate young minds and ensure they feel comfortable and safe.
Our Acrylic and polycarbonate freestanding, protective screens come in a range of sizes, are made from a variety of materials and come in an array of designs – all made in our own factory in the Swansea Valley. We have developed freestanding screens, topper screens, and semi-permanent screens with a range of clear, translucent and graphic printed finishes.
We have seven different graphics that customers can choose from and there is also the exciting option of working directly with our design team at Ministry Graphics to come up with something bespoke, unique and suitable to the environment and people that will use it.
The protective screens are easy to assemble and can be easily moved or repurposed in just minutes.
We have also developed a range of attractive signage suitable for schools and educational facilities that can be displayed on walls, pavement or as pop-up displays in any location.
Contact us today to speak to our team about your unique needs and challenges around getting pupils learning again.