Situated on Swansea University's prestigious Bay Campus, the two-storey 2,600 sq metre H-shaped temporary teaching building offers eight spacious teaching areas for up to 2,000 students, and space for the Student's Union. The comprehensive interior fit-out includes folding partitions to create flexible spaces, lecture suites, PC labs and quiet zones.
The building, officially named 'Y Twyni' (meaning The Burrows), was procured from Wernick Group, and was built 'offsite', using the latest innovations in modular design and build.
Working with the team at Swansea University, we created an interior design scheme and space planned all areas. Our Design team supplied concept images to enable the project team to visualise how the completed project would look. We also specified suitable furniture ranges and provided samples to ensure products exceeded clients expectations.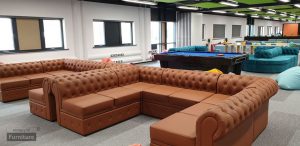 Swansea University's Pro-Vice Chancellor Martin Stringer said: "Y Twyni represents the University's commitment to developing flexible learning spaces, sustainable building methods, and working with local manufacturers."
Within the scheme we supplied products manufactured by Ministry of Furniture in our Ysalyfera production facility in the Swansea Valley as well as products from our supply chain of well-established furniture suppliers.
November 2019
Date Completed
28,000
Total Square Footage