Bringing together semiconductor and advanced materials platforms and processes to deliver new technologies and products. Manufacturing meets research and development.
CISM is delivering a bespoke, integrated facility for semiconductor research and technology development on Swansea University's new Bay Campus containing:
Manufacturing grade, ISO-qualified clean rooms for process development
Backend materials integration and packaging capability
Advanced NNG research laboratories
II/III-VI MOCVD growth facility
Customer Bays for SME incubation
Access to advanced characterisation and analysis [microscopy, surface analysis, chemical, optical, electrical]
Access to state-of-the-art materials and device-level theory and simulation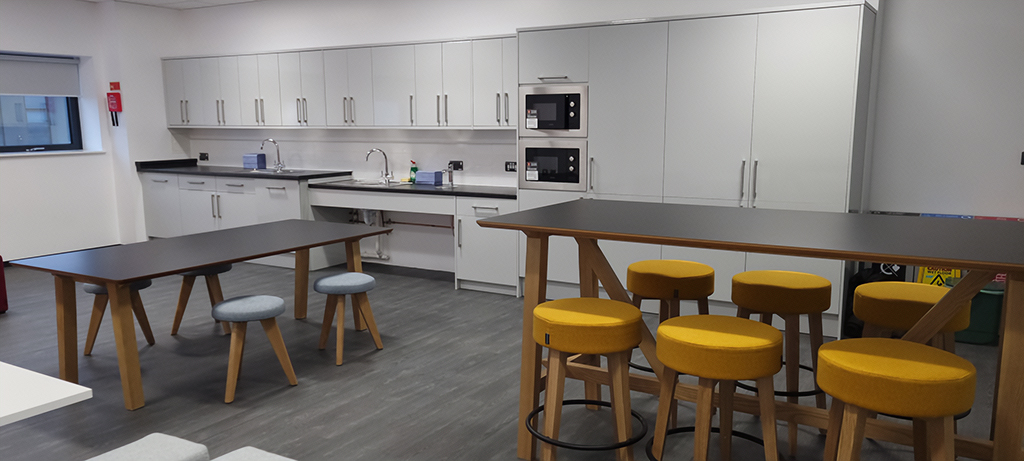 The Centre for Integrative Semiconductor Materials (CISM) building is located at the heart of Swansea University Bay Campus within the existing engineering quarter. This location allows for collaboration and shared facilities with the existing surrounding engineering buildings.
The building is three stories covering 4,320sqm of clean room, research and office facilities. The mass was developed to be appropriately scaled to the surrounding buildings and aligned to the existing campus development master plan within an existing development site. The building uses sustainable, energy efficient building techniques and renewable energy technology including solar PV and heat recovery. The project team aimed to achieve a minimum assessment of BREEAM 'Excellent'.
We were appointed by Kier to provide furniture for the top floor of the CISM building. Working with the team at Swansea University and the Kier project team we provided remanufactured value engineered alternatives to the original furniture specification to provide a cost saving for the client and reflect the sustainable ethos of the building.
We provided desks and lockers which are remanufactured in our production facility in Ystalyfera, South Wales. The project also featured products from our trusted supply chain partners Senator,  Allermuir, Sixteen3 and Nomique.