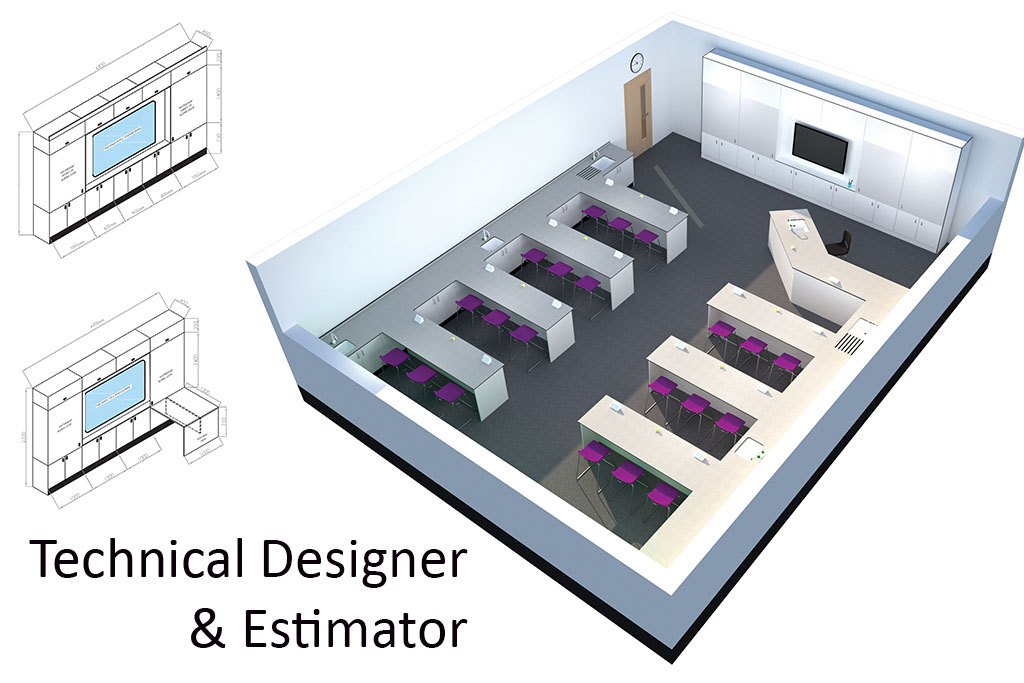 Purpose of Role:
Reporting to the Head of Design, the Technical Design & Estimator is pivotal to business growth by changing, developing, and creating products for our panel production and seeing the product design through to manufacturing. Ensuring the accuracy of estimating and manufacturing through technical drawings and BOM's.
Core Responsibilities:
• Be responsible for creating and developing fitted furniture design and production drawings in accordance with project specification.
• Support projects by providing accurate and effective space planning.
• Produce 2D, 3D CAD and Revit models using software and systems which are coordinated and compliant with appropriate standards and procedures.
• To develop and manage the design of products and product families, ensuring their manufacturability with involvement from the production team.
• Generate and update where required production drawings for all new and existing products.
• Collate, organise, and keep a register of all current product drawings.
• Prepare and organise production ready files to assist with manufacturing.
• Generate Bill of Materials (BOM) and provide cost estimations for new panel products and where necessary Fitted Furniture estimates.
• Ensure the design meets safety regulations.
• Ability to Value Engineer products and create prototypes for all new and bespoke products and get sign off by relevant personnel. Adhering to the NPI procedure.
• Generate Work Instructions for all Product Families with visual images.
• Ensure all relevant product data is kept up to date for MRP introduction.
 
Person Profile:
• Experience and knowledge in contract furniture required.
• Good working knowledge of Fusion 360 or similar.
• Ability to use Autodesk Revit & AutoCAD.
• Experience in estimating is desirable.
• Strong understanding of furniture design, production methods, and materials.
• Experience carrying out site surveys to help with design coordination is desirable but not essential.
• Excellent time management with the ability to work on multiple projects.
• Proven ability to generate accurate, detailed production drawings.
• Awareness and understanding of technical resources and constraints.
• Demonstrable track record of the ability to influence decision making at appropriate level both internally and externally.
• Effective and professional communication skills, both written and oral plus listening skills at all levels cross functionally.
• Proactive ability to work independently.
• Team player with high energy levels and personal integrity.
• The ability to work flexibly as required by the business.
To apply please send your CV and cover letter to Carys Jones on carys@ministryoffurniture.com